for the entire month of september will be baking, sewing & crafting up a storm, preparing handmade gifts for this holiday season…

welcome to our holiday-inspired "bake, craft & sew along." we will be baking, sewing & crafting up a storm, preparing handmade gifts for this holiday season all month long. yep! yep! 30 days of projects. so dust off your sewing machine, & head on over to skip to my lou for some fabulous sewing projects. a southern fairytale is spotlighting lots of edible yummies & holiday-inspired recipes you definitely don't want to miss. & to check out ALL of our crafty & creative projects go HERE.
today, our featured blogger is a self-admitted craft addict leslie, of night owl crafting. leslie writes…
I am so delighted to be guest posting on Kelly's blog today! My name is Leslie and I have a little piece of blogland over at
Night Owl Crafting
.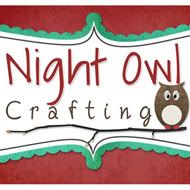 I have 3 children, 9, 2, and 5 months who keep me very busy!
I craft at night after my kiddos go to bed which explains the name of my blog! I have 2 link parties a week called Hoo are you? and Hoo's got talent? I would love for you to come and check them out and link up to them. I also am a high school special education teacher, so I need fast crafts for the little time I have to spend on them. So that is what I am showing off today is a fast and easy holiday decoration.
I had several ideas running through my head for this post, but this is what I ended up with.
I am not even sure what to call it, so we will go with
holiday picture frame holder.
I wanted to create something with things I had laying around my house.
Here we go, the picture is pretty self explanatory but I am providing a tutorial just in case.
picture frame
candlestick holder
bulbs
ribbon
spray paint
glue gun
spray paint the candle stick holder and frame
glue the frame to the candle stick holder
put ribbon on the bulbs and tie them to the frame
add a bow to cover the candle stick hole and and excess glue
add it to your Christmas decor
Really it is that simple and yet adds the perfect touch and height!
Sorry about the pictures being dark, that's that what happens when
you are a night owl crafter!
Thanks Kelly for letting me be a participate in the holiday bake, sew, and craft along party this year!
about leslie: She is a working mom, who teaches Special Education at the high school level who loves to craft! She has a huge little addiction to crafting! She can't help it – she sees cute ideas and has to make them.  She loves to sew, paint, and decorate! She gets excited to open a can of paint because she just LOVEs the smell of it – painting is her therapy along with all her other crating obsessions.
baking, crafting & sewing along at home? don't forget to play show & tell… upload your photos to our flickr group HERE. follow along with all of our featured bakers, crafters & sewers on twitter HERE, & tweet about the holiday-inspired "bake, craft & sew along" using the hashtag #handmadeholiday.