for the entire month of september will be baking, sewing & crafting up a storm, preparing handmade gifts for this holiday season…

welcome to our holiday-inspired "bake, craft & sew along." we will be baking, sewing & crafting up a storm, preparing handmade gifts for this holiday season all month long. yep! yep! 31 days of projects. so dust off your sewing machine, & head on over to skip to my lou for some fabulous sewing projects. a southern fairytale is spotlighting lots of edible yummies & holiday-inspired recipes you definitely don't want to miss. & to check out ALL of our crafty & creative projects go HERE.
today, our featured blogger is my very first blogging crush the always-fabulous marie, of make and takes. marie writes…
I'm excited to be a part of this year's Holiday Craft Along with According to Kelly. I blog over at Make and Takes, a place for kids, crafts, and yummy recipes.
Today, thinking of holiday gift giving, I created this cute little felt envelope. It's the perfect little size to hold gift cards, candies, or even straight-up cash, who doesn't love that?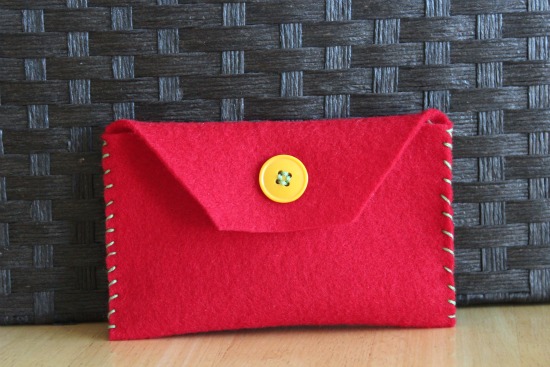 Here's how I stitched up this quick handmade project:
Supplies for Handmade Felt Envelope:
one piece of red felt, cut in half horizontally – you want a long rectangle
green embroidery thread – use all 6 strands of your floss
one button
cross-stitch needle
scissors
1. With your cut in half piece of felt, you will need to make two more cuts at the top, making it have a sort of triangle shape. This will be the top flap to your envelope.
2. Fold your up felt to match the top of the two corners, leaving the top flap for folding over later.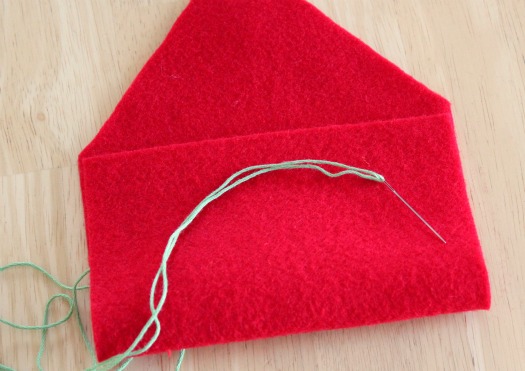 3. Thread your needle with your green floss and stitch up a simple in-out-and-around stitch up both sides of the envelope.
4. Sew on a button about 1 inch from the top opening of the envelope, and cut a small hole on the top flap to match the button.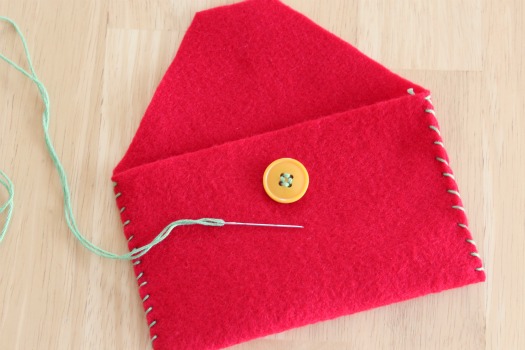 5. Button up your envelope and it's ready to gift for the holidays.
For another fun handmade gift to give, make a Handprint Christmas Tree Apron, stamped with everyone's hands. Grandma is sure to love this gift!
for more great ideas be sure to visit marie her blog make and takes, & follow her every move on twitter & facebook.
about marie: She's a mother of 3 living in the Pacific Northwest. Always having a love of crafts, she enjoys getting messy with glue and glitter. There's always some sort of project going on, her kitchen counter is often cluttered with crafts. When she's not crafting and creating with her kids, she loves to run, read, and blog!
baking, crafting & sewing along at home? don't forget to play show & tell… upload your photos to our flickr group HERE. follow along with all of our featured bakers, crafters & sewers on twitter HERE, & tweet about the holiday-inspired "bake, craft & sew along" using the hashtag #handmadeholiday.